Baseball Musings Team Offense
Baseball Musings Rotation Evaluation
Baseball America Top 10 Prospects
Lineup
Ryan Theriot
SS
Alfonso Soriano
CF
Derrek Lee
1B
Aramis Ramirez
3B
Kosuke Fukudome
RF
Mark DeRosa
2B
Felix Pie
CF
Geovany Soto
C
Rotation
Carlos Zambrano
Ted Lilly
Rich Hill
Jason Marquis
Ryan Dempster
Jon Lieber
Sean Marshall
Angel Guzman
This lineup is still a work in progress, and that's probably a good thing. I do like the idea of hitting Soriano second (as perhaps the team's best batter) and Fukudome (WE PLAY IN AN OUTDOOR PARK) fifth - unless he shakes off his preseason rust and proves he can hit leadoff. This lineup actually looks pretty good, especially when you consider Pie and Soto's potential. The Cubs will again fight the Brewers for the division crown. The bench features brilliant defensive catcher
Henry Blanco
, pinch hitter extraordinaire
Daryle Ward
, and Ryan Theriot's fellow generic young middle infielders with vaguely foreign-sounding names -
Ronnie Cedeno
and
Mike Fontenot
. In the outfield there's
Matt Murton
and former second base prospect
Eric Patterson
, both of whom are considered trading chips. On a side note, it will be interesting to see how this lineup is rearranged if and when the Cubs trade for
Brian Roberts
. Mark DeRosa is a much better hitter than Ryan Theriot, so will the Northsiders try to cram DeRosa or Roberts into the shortstop hole in an attempt to keep both bats on the field? Or will DeRosa move to the outfield to give Pie more time to develop?
The rotation may not strike fear into anyone's heart, but I dare you to find a better starting five in this division. And at least they have options if and when the injuries come. The bullpen is solid, even if they haven't found a closer yet. That job will likely go to
Kerry Wood
or
Bob Howry
, or both.
Carlos Marmol
has been moved to the back end of the pen to set up for Wood and Howry.
Neil Cotts
and
Scott Eyre
provide two reliable left-handed options in relief.
Baseball Musings Team Offense
Baseball Musings Rotation Evaluation
Baseball America Top 10 Prospects
Lineup
Rickie Weeks
2B
JJ Hardy
SS
Ryan Braun
LF
Prince Fielder
1B
Corey Hart
RF
Mike Cameron
CF
Bill Hall
3B
Jason Kendall
C
Rotation
Ben Sheets
Jeff Suppan
Dave Bush
Yovanni Gallardo
Manny Parra
Chris Capuano
Carlos Villanueva
Claudio Vargas
The young guns are a year older and wiser. The defense is much improved, thanks to the addition of Mike Cameron and the move of Ryan Braun to left field. OK, this team will definitely give the Cubs a run for their money, even with Jason Kendall as their best option at catcher. Former Tiger
Eric Munson
has come back from the dead to fight for a spot as Kendall's backup. ND hero
Craig Counsell
will serve as the utility infielder, again mentoring the young duo of Hardy and Weeks. In the outfield,
Tony Gwynn, Jr.
and
Gabe Kapler
are fighting for roster spots. By also carrying
Gabe Gross
, the Brewers have cornered the market on outfielders named "Gabe."
The Brewers are going for quality AND quantity in the starting rotation, which is not surprising considering Sheets and Gallardo's injury histories. There's some good talent in there, and it will complement the offense well. The bullpen is a who's who of Mitchell Report and 2007 trade deadline names.
Eric Gagne
starts the season as Milwaukee's closer, supported by
Derrick Turnbow
,
Guillermo Mota
,
Salomon Torres
,
David Riske
,
Seth McClung
, and
Randy Choate
.
Baseball Musings Team Offense
Baseball America Top 10 Prospects
Lineup
Cesar Izturis
SS
Rick Ankiel
CF
Albert Pujols
1B
Troy Glaus
3B
Chris Duncan
LF
Yadier Molina
C
Skip Schumaker/Brian Barton
RF
Adam Kennedy
2B
Rotation
Adam Wainwright
Braden Looper
Joel Pineiro
Anthony Reyes
Kyle Lohse
Matt Clement
Chris Carpenter
Brad Thompson
Mark Mulder
Todd Wellemeyer
This team has gone from a World Series championship to a disappointing and stressful season to full rebuilding mode. Troy Glaus and Rick Ankiel will have to do all they can to support Albert Pujols. After those three, this lineup isn't much to write home about. Except, of course, for Brian Barton. The aerospace engineer and Rule V pick from Cleveland has been tearing up spring training, and could be hitting his way into the starting lineup. On the bench, defensive specialist
Jason LaRue
and hitter
Josh Phelps
will fight to back up Yadier Molina.
Aaron Miles
is the team's utility infielder. Another former Indian,
Ryan Ludwick
, will serve as backup infielder and a power right handed bat off the bench.
The opening day rotation doesn't look like much - two former relievers in Looper and Pineiro, and two young guys yet to break out in Wainwright and Reyes. But if the Cards get lucky and can get Chris Carpenter, Mark Mulder, and Matt Clement healthy and back to top form, they could easily have the top rotation in the lineup. Of course, that's a HUGE if.
Jason Isringhausen
is still plugging away as St. Louis's underrated closer. He'll be supported by
Ryan Franklin
,
Russ Springer
, and whoever else doesn't make the rotation.
Baseball Musings Team Offense
Baseball America Top 10 Prospects
Lineup
Michael Bourn
CF
Kaz Matsui
2B
Miguel Tejada
SS
Lance Berkman
1B
Carlos Lee
LF
Hunter Pence
RF
Ty Wigginton
3B
JR Towles
C
Rotation
Roy Oswalt
Wandy Rodriguez
Brandon Backe
Woody Williams
Shawn Chacon
Chris Sampson
Felipe Paulino
The Astros have struggled to compete in the Central over the past couple years, but a quick glance at this lineup shows that it's built to win right now. Tejada, Berkman, and Lee form a formidable core. Pence, Wigginton, and Towles aren't bad in their own right, and Michael Bourn is poised for a breakout. Kaz Matsui is a question mark, but as always
Mark Loretta
is a more than adequate backup. Speaking of backups,
Brad Ausmus
will be back catching,
Geoff Blum
joins Loretta as a backup infielder, and
Darin Erstad
and former Marlin
Reggie Abercrombie
will be the backup outfielders.
The lineup is solid, but the rotation is lacking. Roy Oswalt may be one of the best, but there's virtually nothing behind him. Brandon Backe is returning from injury, which helps. But Wandy Rodriguez, Woody Williams, and Shawn Chacon don't strike fear in anyone's hearts. Even the bullpen, which has been traditionally chock-full of quality setup men, is a problem spot this year. New acquisition
Jose Valverde
will be supported by
Doug Brocail
and a cast of no-names.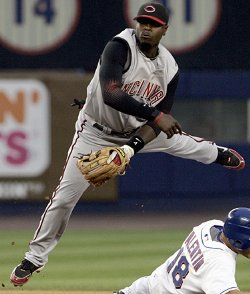 Baseball Musings Team Offense
Baseball America Top 10 Prospects
Lineup
Ryan Freel
CF
Brandon Phillips
2B
Ken Griffey, Jr.
RF
Adam Dunn
LF
Edwin Encarnacion
3B
Joey Votto
1B
David Ross
C
Alex Gonzalez
SS
Rotation
Aaron Harang
Bronson Arroyo
Matt Belisle
Josh Fogg
Homer Bailey
Jeremy Affeldt
Edinson Volquez
This team could go either way, especially under the leadership of
Dusty Baker
. It has some decent players, but I don't think the Reds have quite enough to compete with the Cubs and Brewers. Phillips, Griffey (when healthy), and Dunn should hit well, as should Joey Votto. Cincinnati has the best prospect in the game in CF
Jay Bruce
, but all indications (including the recent signing of
Corey Patterson
) are that Bruce won't be playing north of the Ohio River anytime soon. The Reds have some decent infield backups in
Scott Hatteberg
,
Juan Castro
, and
Jeff Keppinger
. In the outfield,
Norris Hopper
should see decent playing time. Behind the plate,
Javier Valentin
will backup David Ross.
The rotation starts strong with Aaron Harang, but isn't spectacular after that. Arroyo, Belisle, Fogg, and Volquez are serviceable but not spectacular. Affeldt will return to a starter's role after several years in the bullpen. Experts have started to sour on Homer Bailey already, but he's perhaps a victim of those same experts' lofty expectations. He's not washed up just yet. Pop quiz: who has been the Reds closer for the past few seasons? I bet you couldn't name
David Weathers
. Weathers moves into a setup role for the newly acquired
Francisco Cordero
.
Mike Stanton
and
Gary Majewski
will also work out of the Cincinnati pen this season.
Baseball Musings Team Offense
Baseball America Top 10 Prospects
Lineup
Nate McLouth/Nyjer Morgan
CF
Freddy Sanchez
2B
Adam LaRoche
1B
Jason Bay
LF
Xavier Nady
RF
Jose Bautista
3B
Ronny Paulino
C
Jack Wilson
SS
Rotation
Tom Gorzelanny
Ian Snell
Paul Maholm
Matt Morris
Zach Duke
John Van Benschoten
Bryan Bullington
This team may slowly be moving in the right direction. The core of Sanchez, LaRoche, Bay, and Nady, is a good start, especially with the addition of Ronny Paulino behind the plate. McLouth, Morgan, Bautista, and Wilson can all put up at least league average numbers, which is a plus. Now to work on the bench, which for the time being features
Ryan
(god_doumit)
Doumit
and former Orioles/Indians utilityman
Chris Gomez
.
The rotation is starting to take shape too. Tom Gorzelanny and Ian Snell both posted ERAs under 4, and their win totals would obviously be better on a better team. (As it is, Gorzelanny still finished 14-10.) Morris put up OK numbers. Duke had a rough year, but he'll undoubtedly bounce back.
Matt Capps
is back as Pittsburgh's closer, supported by
Byung-Hyun Kim
and LOOGY star
Damaso Marte
.