First, a tip of the cap to current Domer
Brett Lilley
, who recently set the NCAA record for career HBP at 93.
Second, if you get bored with the NFL draft this Saturday (April 26), be sure to check out the baseball team against St. John's at 3:30 on ESPN. (Assuming ESPN hasn't changed their programming by then.)
Check out The Baseball Cube for
the full list of Notre Dame alumni in professional baseball
. I'm only including people who played in 2007 in this list; I'll let you do your own legwork if you're curious about anyone else.
John Axford - High A Brevard County (Brewers)
Craig Cooper - AA San Antonio (Padres)
Craig Counsell - MLB Milwaukee (Brewers)
Ryan Doherty - The tallest pitcher in minor league history spent 2007 between High A Visalia (Diamondbacks) and River City Frontier League. He was effective during his short career, but reportedly retired due to health concerns.
Matt Edwards - After a brief stint in the Phillies organization, Edwards moved on to Evansville of the Frontier League, where he began tearing up the place. However, he does not appear on Evansville's 2008 roster.
Chris Fournier - Short A Brooklyn (Mets), where he is known for his distinctive sartorial statement.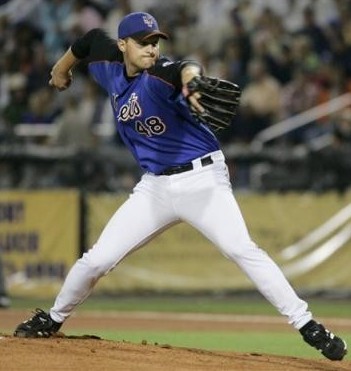 Aaron Heilman - MLB New York (Mets)
Carlyle Holiday - Selected by Cincinnati Reds in 44th Round (1307th overall) of 2003 amateur entry draft (June-Reg); recently released by NFL Green Bay (Packers).
Grant Johnson - AA Tennessee (Cubs)
Dan Kapala - Short A Staten Island (Yankees)
Brad Lidge - MLB Philadelphia (Phillies)
Matt Macri - AAA Rochester (Twins)
Jeff Manship - High A Fort Myers (Twins)
Chris Michalak (or: Chris Michalak)- AA Frisco (Rangers)
Chris Niesel - Just released by the Indians organization.
Jeff Samardizja - AA Tennessee (Cubs)
Javy Lopez - Played for High A Fort Myers (Twins) last year; not on their roster this year.
Steve Sollman - AAA Nashville (Brewers)
Brian Stavisky - Having peaked at AAA then released by the Oakland organization, Stavisky moved closer to home and will join the Lancaster Barnstormers of the independent Atlantic League this season.
Danny Tamayo - Tamayo played for three years at AAA Omaha (Royals), but was never able to make it to the parent club. He does still pitch in the Dominican Winter League and for the Dominican national team.
Tom Thornton - The information's a year old (Thornton isn't listed on Nashua's roster anymore), but I couldn't resist posting this Thortnon article from OC Domer.
Brant Ust - AAA Tacoma (Mariners). As Ust enters his 10th year of minor league ball without so much as a cup of coffee (I'm still not sure why Boston put him in High A a year after Detroit had him at AAA), Ust defines "organizational player. But he also defines "love of the game."
Joey Williamson - Low A Asheville (Rockies)